Test Drive Your Gift Experience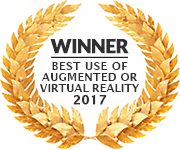 With the resounding success of our award winning 2017 Debenhams Virtual Reality (VR) campaign still at the forefront of our minds, we set our 2018 VR ambitions; even higher. We wanted more people to experience our "test drive before you buy" concept, so we committed to rolling out to a further 40 Debenhams stores, placing our VR stand in 60 stores altogether for 2018. We didn't stop there however; we launched our VR concept in two major shopping centres - Milton Keynes and Leeds Trinity.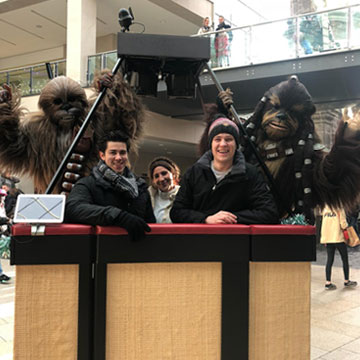 VR Hot Air Balloon with some unusual guests! - Trinity, Leeds
The four original VR films from 2017 were also shown in our 2018 campaign, to continue showcasing our bestselling experiences Helicopter Buzz, Supercar Drive, Go-Karting and Paintball. We also introduced an exciting new film, produced in partnership with Virgin Balloons. This allowed our customer to virtually experience the thrill of going up in a Hot Air Balloon. Also, for those customers that wanted to experience all 5 films, we produced a montage taking the best from each.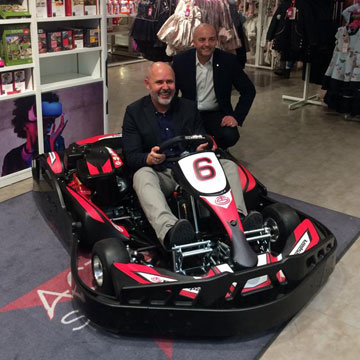 Sergio Bucher, Debenhams CEO with Chris Claxton - Meadowhall, Sheffield
Where possible, we wanted our 2018 campaign to push the VR envelope even further and so we experimented with adding more "theatre" to our set-ups. In Debenhams Meadowhall, we added a real life Go-Kart to the VR stand. Customers could sit in the Go-Kart and watch the associated VR film. This added further dimension to the experience for our customers, and their feedback was emphatically positive.
Within our Milton Keynes and Leeds Trinity set-ups we included a life-size Hot Air Balloon basket in situ. To fully immerse the participants in the Hot Air Balloon VR film we gave them Bluetooth headphones to cut-out shopping centre background noise and heighten the feeling of actually being in a Hot Air Balloon. Secondly, a timed heater was positioned above the basket and activated when the pilot fired the burner in the VR film. Thirdly, electronic fans were scheduled to simulate blowing wind when the film showed the balloon skimming low over cornfields before its final landing.
With our VR campaigns we hope to give people a unique opportunity to trial what the lucky recipient of their gift will actually experience. The results and feedback from our customers has been incredible and we are now busy developing Christmas 2019 Virtual Reality options for both instore and in shopping centres.

- Take a 360 degree virtual reality experience of the product by viewing on YouTube.
To view on mobile devices you must download the YouTube app.
Download for Android devices here.
Download for iOS devices here.