Frequently Asked Questions
Please use the navigation links below or simply scroll down the page to view your required answer.
Ordering
A. Gift vouchers can be purchased on our website. You must be 18 or over to purchase any product containing alcohol.
A. In light of the Covid-19 pandemic, we've added an extra 6 months to our validity, so all new purchases are now valid for 18 months from purchase.
A.
You can pay on our website using any of the following payment options:

A.
Laybuy is a form of credit that allows you to receive your purchase now and spread the total cost over 6 weekly interest-free, automatic payments. Please
click here
for more information on Laybuy.
A.
If you experience problems placing your order, please email us at
customersupport@activitysuperstore.com
, making sure to include a contact number, and one of our agents will be more than happy to help you.
A. Yes, just enter your message in the space provided before completing your sale.
A.
Your discount code may not be working for one of the following reasons:
The discount code may have expired.
The products are non-discountable (discount codes can only be applied to non-promotional experiences unless otherwise stated).
The code is typed incorrectly.
If you are still having problems with your promotional code, please email us at
customersupport@activitysuperstore.com
and one of our agents will be more than happy to help you.
A.
We advise that you wait at least 24 hours for the order confirmation email to come through, however if you have not received this after that time please email us at
customersupport@activitysuperstore.com
.
A.
You are buying a stylish gift voucher pack which you can hand or post to the recipient. This is their passport to a fantastic experience – one which they will never forget! It contains everything they need to book and attend their experience.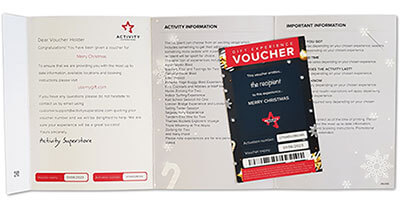 The voucher pack is included in the price of each gift experience. The voucher can be personalised by you with your own message. It comes with all the information needed to book the experience.
Delivery
Option
Time Scale
Charges
eVoucher
Immediately.
Sent to email inbox.
Free
Royal Mail 1st Class
3 - 5 working days.
Sent by first class post on the same day if ordered before 1pm Monday - Friday.
Otherwise, it will be sent by first class the next working day.
Now with a free gift wallet.
£2.99
Special Delivery
Guaranteed next day delivery.
If ordered before 11.30am Monday - Thursday.
Requires a signature.
Now with a free gift wallet.
£5.95
Please note that delivery terms are subject to change over the Christmas period.
A.
Yes, but for security reasons we are unable to send vouchers over £100 to an address that is different from the purchasers address. If you would like to purchase a voucher for more than £100 please email us at
customersupport@activitysuperstore.com
.
Validating Your Voucher
A.
Your registration card/ voucher should include step by step instructions on the validation process. If you need help with this please email us on
customersupport@activitysuperstore.com
including your activation number.
A. To enable us to process your validation we do need a copy of the original receipt or gift receipt. We can also accept a copy of a bank statement showing the purchase transaction.
A. If you are unable to validate online please follow the prompts online to submit an email enquiry where, once received, a member of our customer support team will be happy to assist you further.
A.
Yes, simply complete the activation process as directed on your voucher, you will need to select an experience within your pack first, once done you will be taken to the main menu, where the Exchange option will be shown.
If you select an activity worth more than the value stated on your voucher, you will be required to pay the difference.
Booking
A. To view full booking details please go to www.usemygift.com and enter your details, please ensure the voucher and Activation number do not have any spaces or hyphens. Please then follow the online prompts and use the contact details next to your chosen location to book a date.
A. For safety reasons, some experiences have certain size, age and health restrictions, you can find this under the Need to Know section in the Activity Description on our website. You are required to notify Activity Superstore and/or the experience provider of any relevant medical condition. You must be 18 or over to purchase any product containing alcohol.
A. You will need to have booked and attended your experience before the expiry date or the voucher will become invalid.
A. We are unable to cancel or change the date or time of the experience once it is booked.
A. If your experience is cancelled due to weather we will happily rebook you in for the next available dates. Please check upon cancellation of the rebooking procedure if booked directly with the experience provider.
A.
Should you need to cancel your experience at short notice, owing to illness or accidental injury to yourself or the death of an immediate family member, it may be possible to rearrange your experience through a replacement voucher. Please email us at
customersupport@activitysuperstore.com
as soon as possible.
For all claims you may be required to provide medical documentation such as a copy of a Doctor's note. Please note our Cancellation Cover does not cover pre-existing medical conditions.
Exchanging
A.
Yes, your voucher can be exchanged for another voucher, up to the face value stated on it. Simply visit
https://exchanges.activitysuperstore.com
to view all experiences available.
Please note Activity Superstore promotional/special offer products and tangible gifts are excluded from the list of exchangeable products.
A. Vouchers can only be exchanged twice.
A. There is no fee for exchanging.
A.
Yes, but you will be required to pay the difference in price. You can do this by emailing us at
customersupport@activitysuperstore.com
or by sending in a cheque made payable to Activity Superstore Ltd.
A. Once you have processed the exchange online, you will receive an E voucher within 24 hours.
A. No, the expiry date remains the same as on your original voucher.
Extending
A.
Yes, it can be extended for a further six months. The voucher can only be extended once and must be done whilst the voucher is valid.
Promotional vouchers cannot be extended.
A. There is an administration fee of £20.00.
A. No, keep the voucher you have. You will receive confirmation either via email or a letter. You will need to take extension confirmation as well as your voucher on the day of your experience.
Refunds
This policy applies to vouchers purchased online through www.activitysuperstore.com or www.giftideasfortwo.com
A. If you are not satisfied with your voucher pack, please call us within 28 days of purchase and we will happily arrange a full refund on receipt of your voucher. Please return your voucher to The Activity Superstore Ltd, 1st Floor, 41-45 High Street, Saffron Walden, Essex, CB10 1AR. Refunds will be paid back onto the credit/debit card used to place the original order. Refunds cannot be issued once you have registered or booked a date with the experience provider.