About Us
Experience Day Enthusiasts
Everyone should be a Gift Hero
We believe in helping people become exceptional gift-givers, by creating truly unforgettable experiences for their loved ones.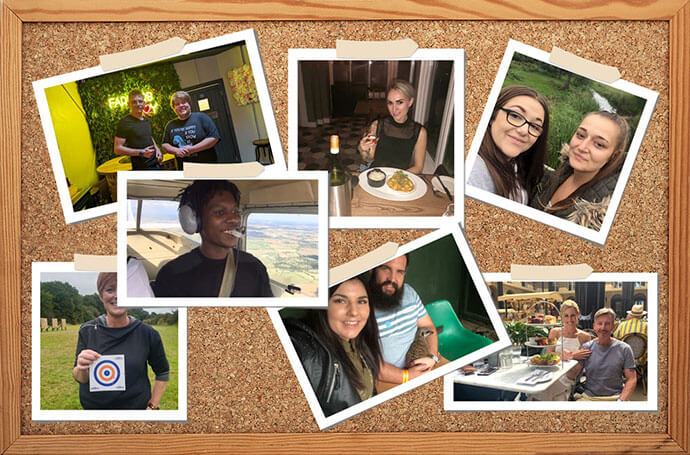 Our Story
Activity Superstore was started in 1997 above a shop in genteel Saffron Walden, by an Entrepreneur who happened to own a Tiger Moth biplane! From those humble origins, the business has grown to serve over 3 Million customers and has worked with most of the High Street giants such as Boots, M&S, John Lewis and Primark, amongst many others.
In 2006 the baton of ownership was handed to Shaun, Vicki and Stuart who still manage the business and are fiercely proud of its Independence. They formed the Days of Your Life Group and have since saved two specialist digital Gift businesses: Find Me a Gift in 2019 and The Gift Experience in 2022.
On the Activity Superstore website there are over 1,000 different Experience Days to suit a range of budgets and cater for all Occasions – gigantic and small! Our Experience Days are also found in hundreds of High Street stores nationwide and we are still very proud to support both physical and digital retailers.
What's Important to Us?

Tried and Tested
As experience enthusiasts ourselves, we test our experience days. We don't sell anything we haven't enjoyed ourselves.

Customer Satisfaction
We listen to our customers and their feedback. Any venue that receives poor reviews is removed.

A Gift for All Seasons
We have thousands of gift ideas to suit everyone and every occasion, from a simple afternoon tea to once-in-a-lifetime experiences.

Independent
We are a UK based, owner- managed business and fiercely proud of our independence.
Why Trust Us?


Days of Your Life Group